The following is written by Elizabeth Carrollton about pelvic health during pregnancy and the postpartum period. She addresses some common issues, excellent ways to prevent pelvic floor related problems, and brings awareness to some major issues with surgical treatment using transvaginal mesh. Thank you Elizabeth for all you do to improve
maternal health and safety!!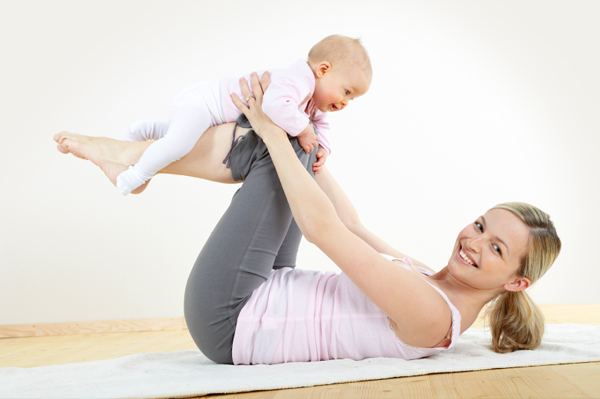 C

hildbirth is the biggest risk factor for pelvic floor problems like pelvic organ prolapse (POP) and stress urinary incontinence (SUI). Half of all women who have had at least one child will develop POP to some degree, and SUI occurs in about a quarter of childbearing women. However, paying attention to your pelvic health during pregnancy and after childbirth can help reduce your risk of developing these disorders.
Why Pelvic Health Matters
Healthy, strong pelvic muscles serve a lot of important functions in the body, such as enhancing sexual sensation, making childbirth easier, holding pelvic organs securely in place, supporting the spine, contributing to balance and movement, and aiding in urinary and bowel function. On the other hand, weak pelvic floor muscles can be the source of quite a few problems, like lower back pain, difficult labor and delivery, sexual dysfunction and pelvic support problems.
Among the most common pelvic support problems encountered by women are stress urinary incontinence and pelvic organ prolapse. SUI occurs when pelvic floor muscles have become too weak to hold back urine flow, allowing leakage when a woman coughs, laughs or exercises. It can also be an early sign of POP, which happens when the pelvic floor becomes so stretched or weakened that it cannot support pelvic organs properly, such as the bladder, rectum and uterus, allowing them to drop down within the pelvic cavity to place pressure on the vagina.
The pelvic floor weakness that is at the root of both of these pelvic support problems is most often caused by the strain of childbirth, but obesity, heavy lifting, straining due to constipation and chronic coughing can also contribute. Estrogen loss during menopause causes muscles and tissues to become less elastic, which can cause further weakening of the pelvic floor.
Maintaining Pelvic Floor Strength and Flexibility
Pelvic health problems often can be avoided by keeping the muscles of the pelvic floor strong and flexible. Pelvic floor exercise is essential in meeting that goal, done regularly throughout life, but especially during pregnancy, after delivery and during the years that lead up to menopause. Seeing a fitness professional can help you devise a good exercise routine for pelvic health.
Maintaining a healthy body weight is also important, since being overweight places excess pressure on pelvic muscles. Good nutrition matters, too, since a well-balanced diet provides the nutrients your muscles need to maintain health and proper function. If you've already developed POP or SUI, these measures can also help reduce symptoms in many cases.
Words of Caution on POP, SUI and Transvaginal Mesh
Some women will develop pelvic organ prolapse or stress urinary incontinence despite their best efforts toward prevention, and in severe cases, surgery may be necessary to provide relief. It is important for any woman who is considering surgery to know that procedures that use
transvaginal mesh
implants or bladder slings in SUI or POP repair have been associated with serious complications in thousands of women.
Among the most common problems reported are mesh erosion, mesh protrusion through vaginal tissues, mesh shrinkage, organ perforation and infection. Filing a
vaginal mesh lawsuit
is a route several women have taken, due to these severe complications.
Most cases of POP and SUI can be resolved without mesh, so be sure to ask your doctor about traditional POP or SUI procedures that do not use mesh implants.
Elizabeth Carrollton writes about defective medical devices and dangerous drugs for Drugwatch.com.